5. Create the Models¶
"A model is the single, definitive source of information about your data. It contains the essential fields and behaviors of the data you're storing. Generally, each model maps to a single database table."
The next step is to create the data structure with help from models.
Models define how data is saved. Usually a model represents a table in the database, and has fields, metadata and methods. With this information Django can automatically generate an interface to the database that allows object oriented access to it. This is called Object-Relation-Mapping (ORM).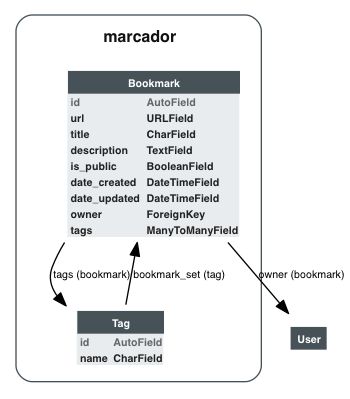 In django-marcador, two models are required. You can see them in the entity–relationship model above. Bookmark represents the actual bookmarks and has fields for URL, title and description. Data about who created the bookmark and when, as well as whether the bookmark is public or not is also stored here. This data will be used later to filter the bookmarks. A second model Tag represents keywords that can be attached to bookmarks to make them easier to find. Bookmark and Tag have a many-to-many relationship, so Django will create the intermediate table automatically.
In order that Django recognises your class as a model, it must inherit from django.db.models.Model and be placed in models.py in your app directory (in this example mysite/marcador/).